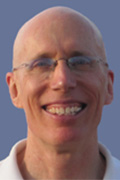 Mark Smith is a licensed clinical social worker whose early career was established in the world of work as the Director of clinical services to nurses, doctors, and staff at the EAPs of NYU Medical Center and Downtown Hospital in New York City.
In private practice since 2001, Mark is a leading developer, teacher, and clinician of neurofeedback interventions for a variety of disorders. He was the first user of Z score training in the world. As an early adopter and developer of Z Score training, he worked closely with Thomas Collura from Brainmaster Inc. and Robert Thatcher from Applied Neuroscience Inc to develop Z Score interventions for various disorders. These protocols, that he developed and continues to construct, are the most frequently used interventions in Z Score Training worldwide.
Infra-slow Fluctuation (ISF) training, now a primary intervention in EEG-Biofeedback therapy, was developed by Mark from his experience training the the "Ultradian" rhythms: the lowest energy the brain produces. This type of neurofeedback has had a profound, positive, impact on the lives of his clients, as well as, the clients of the hundreds of therapists he has taught over the years.
- For the last two years, Mark has contributed to the establishment of sLORETA training with Dr. Thomas Collura and others.
Mark Smith Workshop Information