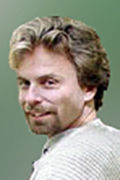 Bill Scott is the principal investigator and first author of an addiction research project that yielded a 79% success rate with Native American alcoholics. This study was with Dr. Eugene Peniston (in press). An interview with Bill by the Psychiatric Times was published as a feature article. Bill Scott has also presented research at the American Association for the Advancement of Science with Dr. David Kaiser. Bill trained the researchers Dr. John Gruzelier and Dr. Tobias Egner (members of Department of Cognitive Neuroscience and Behaviour, Imperial College Medical School) in the use of alpha-theta protocols. The results of this research project so improved music abilities among Royal Conservatoire of Music students that the Conservatoire has made these protocols a mandatory part of the schools curriculum.
Bill has been published in the January 2000 issue of Clinical Electroencephalography (EEG), an official journal of the EEG and Clinical Neuroscience Society (ECNS). He contributed a chapter on alpha-theta EEG biofeedback in Jim Robbins' Book, "A Symphony in the Brain." He was the Principal Investigator for a large controlled study (n=121) on poly drug abusers at CRI-Help in North Hollywood, which he presented May 23rd, 2002 at the American Psychiatric Associations annual convention in Philadelphia. He also taught a workshop on anxiety disorders with Thomas Brod, M.D. at this conference.
Bill has been training EEG biofeedback practitioners since 1996 and has taught over two thousand practitioners in the use of EEG biofeedback in clinical practice.
He is also co-authoring Dr. Eugene Peniston's 10-year follow-up to Peniston's first alcoholism study. This paper will include a summary of all previously published research on alpha-theta EEG biofeedback. In association with Michael Hoffman, Bill is also currently involved with the Narcotics Division of the American Embassy in South America where they are teaching their protocols to other researchers in order to quickly replicate their work in Latin America. He participated in the 4th annual Meeting of Experts on Demand Reduction for the Organization of American States. Bill is the co-investigator of a study on post traumatic Stress Disorder at U.C.L.A.'s Neuropsychiatric Institute with Dr. Lobsang Rapgay (Director of the UCLA Biobehavioral Medical Clinic). Citing the work of Bill Scott and colleagues, Dr. Frank Duffy, editor of the journal Neurology, states, "The literature, which lacks any negative study of substance, suggests that EEG biofeedback should play a major therapeutic role in many difficult areas. In my opinion, if any medication had demonstrated such a wide spectrum of efficacy it would be universally accepted and widely used."
Bill Scott Workshop Information