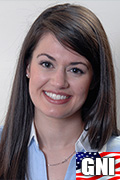 Christen Stahl is the associate clinical director at the Brain Enrichment Center.  She completed her Masters in both Community and School Counseling from Regent University (Virginia Beach, Virginia).  During that time, she utilized neurofeedback during a 9-month internship with Fly Family Therapy in Newport News, Virginia.
The experience under Dr. F. L. Fly allowed Christen to work with a diverse population and wide range of mental health concerns, gaining experience with clients from age 2 to an elderly stroke survivor in a nursing/rehabilitation center.  It was amidst this period when she came to understand the restorative potential of combining mental health counseling and neurofeedback.  Currently, she is a Licensed Professional Counselor (LPC) in the state of Ohio, a National Certified Counselor (NCC), and certified in neurofeedback (BCN) through the Biofeedback Certification International Alliance (BCIA).
She is a member of Chi Sigma Iota, a counseling honor society and the American Counseling Association (ACA).  Christen has co-authored an article for The Journal of Neurotherapy (2013, Volume 17, Issue 3) and co-presented a workshop entitled "Neurofeedback and Biofeedback: Research, Practice, and Microskills Development" at the 2014 American Counseling Association Conference, and was the primary presenter for "Neurofeedback Introduction for Mental Health Counselors" at the 2015 American Counseling Association Conference.
November 4, 5, 11 & 12, 2022 Location Virtual Workshop Get an in-depth understanding of neuroanatomy/neurophysiology and use of a comprehensive neurodiagnostic process to create training protocols with and without Live Z-scores! PLUS: successful business and marketing tips from a 20-year neurofeedback practice!

Read More

---

May 5, 6, 12 & 13, 2023 Online Streaming Workshop Get an in-depth understanding of neuroanatomy/neurophysiology and use of a comprehensive neurodiagnostic process to create training protocols with and without Live Z-scores! PLUS: successful business and marketing tips from a 20-year neurofeedback practice! THIS WORKSHOP WILL BE PRESENTED COMPLETELY ONLINE! Since the workshop will be ...

Read More

---

November 3, 4, 10 & 11, 2023 Online Streaming Workshop Get an in-depth understanding of neuroanatomy/neurophysiology and use of a comprehensive neurodiagnostic process to create training protocols with and without Live Z-scores! PLUS: successful business and marketing tips from a 20-year neurofeedback practice! THIS WORKSHOP WILL BE PRESENTED COMPLETELY ONLINE! Since the workshop will ...

Read More

---