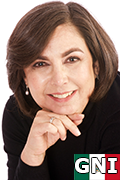 Dr. Dolores Gaxiola was born in Mexico City, where she has always lived. She studied Medicine at the Universidad Autónoma de México and it was where she started her broad teaching experience. She has been always interested in the comprehensive healthcare; Dolores first stared working as a general doctor and always showing interest in the relation between the patient's emotional state and their health.
Dolores got her Masters Degree in Neuroscience and Mental Health at the Universitat Oberta de Calaluna by conducting the literary research work: "Psychoneuroimmunology of some psychiatric diseases". She has specialized studies in Family and Couples Therapy by giving the presentation: "Neurosciences in the family therapy", she also has specialized studies in Addictions, and she earned a Diploma in Eating Disorders.
She started studying and using Biofeedback, finding a practical application to the neurosciences. Thanks to the Neurofeedback, she has been able to treat patients in a complete way. Committed to it and its correct practice in Mexico, she has studied in order to obtain the Diploma of Global Neurofeedback Initiative Instructor, hoping to spread the correct knowledge and application of Neurofeedback, not just in Mexico but also any Spanish speaking country.
She founded her clinic "NEUROSCIENCES AND THERAPY" in 2004, where she is happy to personally treat each one of her patients and students that have reached out to her looking to learn the practice of Neurofeedback.
Dolores Gaxiola Workshop Information
July – October 2023 This workshop is for anyone seeking BCIA teaching hours for certification, as well as anyone new to Neurofeedback. The course introduces database orientation and protocol selection. The BrainMaster team is the team chosen for this workshop.Limited Seats!

Read More

---

November and Decemeber 2023 This workshop is for anyone seeking BCIA teaching hours for certification, as well as anyone new to Neurofeedback. The course introduces database orientation and protocol selection. The BrainMaster team is the team chosen for this workshop.Limited Seats!

Read More

---

Noviembre y Diciembre 2023 Este taller es para cualquier persona que busque horas didácticas de BCIA para la certificación, así como para cualquier persona nueva en Neurofeedback. El curso introduce la orientación de la base de datos y la selección de protocolos. El equipo BrainMaster es el equipo elegido para este taller.Asientos limitados!

Read More

---