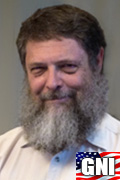 Jim Kelley answered the call to ministry as a teenager and has been active in numerous Christian efforts since that time. He witnessed many amazing life changing experiences and while most would grow in their new-found faith, there were some who had made genuine commitments to Christ that fell away sharply – the end being in worse shape than before their commitment to Christ.
After witnessing the pain in the loss of these 'Grace Gifts', he has been motivated in studying the causes of people's failures in their Christian walk. He sought out ministries that focused on the serious dysfunctions that deal with some Christians heartbreaking failure as well as completing graduate work in psychology. But it was after 15 years of performing psychological work for the state (working with the mentally ill, developmentally delayed, children and aged), that he became aware of neurofeedback.
Jim quickly became certified in both neurofeedback and as a QEEG technologist. He found that the training of Christian life principles and neurofeedback worked synergistically to such a successful level that he set aside psychological approaches (although he maintains his license to practice) to devote more time to these potent tools. Although he is conversant with the medical model approach to such problems, he finds the role of a pastor, coach or trainer more consistent with the mission.
Since 1995, he has been mixing the use of neurofeedback with the practice of exercising good mental hygiene from a Christian prospective. He has trained those with depression, focus and attention issues, cognitive decline, memory issues, seizure and paralysis, trauma, brain injury, addictive behaviors, and other behavior problems to a more satisfying life and successful self-control.
Jim Kelley Workshop Information