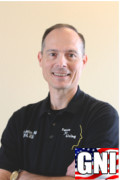 Dr. Wes Center is the President and Clinical Director of Focus for Living, is licensed by the State of Texas as a Licensed Professional Counselor and Board Approved Supervisor. He holds a Master of Arts in Marriage & Family Counseling, a Master of Arts in Christian Education, and a Doctor of Philosophy in Psychology & Counseling from Southwestern Baptist Theological Seminary. He additionally completed his doctoral minor in clinical psychology from Walden Universit and serves as a Board Certified Professional Christian Counselor, National Certified Counselor, and Board Certified in Neurofeedback.
A native Texan, Center completed his undergraduate education at Howard Payne University. He served in the U. S. Marine Corps for more than 20 years as an active duty commissioned officer, retiring in the rank of major. Among his many command and staff assignments overseas and in the US include the Gulf War (1990-1991), of which he is a combat veteran.
Center also has extensive experience in hospital-based psychiatric and substance abuse treatment facilities. He is involved in supervising and mentoring beginning counselors and neurotherapists. Dr. Center also has post-doctoral training and clinical experience in Quantitative Electroencephalogram-guided neurofeedback (qEEG-guided NFB).
He remains actively engaged in teaching, research, and clinical supervision of counselor interns and mentoring of neurotherapists. He has taught graduate and undergraduate psychology and counseling courses as an adjunct professor at Hill College, Liberty University, and Southwestern Baptist Theological Seminary. In addition, he is actively involved in promoting brain-based education among local schools through seminars and workshops for faculty, staff, and administrators and serves as a member of the American Association of Christian Counselors, Christian Coaching Alliance, and Society for Christian Psychology.
Center is currently an Adjunct Professor of Psychology & Counseling in the graduate Center for Counseling & Family Studies at Liberty University.

August 13 – 16 This workshop is for anyone seeking BCIA didactic hours towards certification as well as anyone new to Neurofeedback. Course introduces database guidance and protocol selection. BrainMaster equipment is the equipment of choice for this workshop. Limited Seating!

Read More

---

October 22 – 25, 2020 This workshop is for anyone seeking BCIA didactic hours towards certification as well as anyone new to Neurofeedback. Course introduces database guidance and protocol selection. BrainMaster equipment is the equipment of choice for this workshop.Can be attended Virtually or In-Person! Limited Seating!

Read More

---