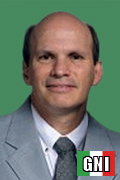 Dr. Adrian Roel received his Professional License in Psychology from the Universidad de Monterrey in 1978. Since 1981 works in the field of Behavioral Medicine, and applied psychophysiology using a system's approach and multimodal treatments in treatment of brain/mood/behavioral problems.
He has been professor for undergraduate and graduate level, has made presentations in international congresses and has been a consultant for more than 300 organizations. He has been a biofeedback and neurofeedback trainer for more than 25 clinics in Mexico and Latin America.
He sells hardware and software and provides training in Biofeedbak, Neurofeedback, and QEEG and provides technical and clinical support for many groups across the country.
He is the author of CD for relaxation, and manuals for Headaches, Insomnia, and Stress Management.
He designed and sell Happy Max, a supplement formula with amino acid precursors to increase the production of dopamine, serotonin, GABA and nor epinephrine to improve mental and emotional function. After a trial period, it has shown great benefits for impulsivity, attention, alertness and mood. At present he is starting a double blind pilot study using QEEG, ERP, IVA and Conner's questionnaires.
He has done research in nutritional profiles of ADHD using MetaMetrix Laboratories. He is the director of the Instituto de Bienestar Integral in Monterrey, Mexico with more than 14 affiliates in the Country.
DIDACTIC TRAINING
1978 Psychology degree and License; Universidad de Monterrey, Monterrey, México.
1979 Biofeedback; Psychosomatic Medicine Clinic, Berkeley California 50 Hours.
1980 Stress Management for Organizations, Biofeedback Society of America 20 Hours.
1981 Biofeedback Training, Dando SA, Mexco City 16 Hours.
1982 Intern Behavioral Medicine Associates, Houston, TX 6 months.
1984 Chronic Pain Management, Baylor College of Medicine, Houston, TX 80 hours.
1990 Biofeedback, J&J I330 training, Peter Litchfield, Monterrey, México 40 Hours.
1991 Neurofeedback and QEEG Joel Lubar, Tennessee, private training 40 hours.
1991 QEEG Lexicor NeuroSearch 24, Monterrey México private training 16 hours.
1993 Thatcher Neurothrerapy for CHI-ADD Seminar, Dallas, TX 12 hours.
1993 Thatcher QEEG Seminar, Dallas, TX 16 hours.
1993 John Gilbert, Advanced NeuroLex and BioLex Workshop, Dallas, TX 8 hours.
1994 Len Ochs, Lens System training California 16 hours.
1998 Adam Crane Biofeedback, Neurofeedback training, Mexico City 56 hours
2003 ISNR 11 th Annual Conference, Houston, TX 20 hours
2003 Dominic Greco, SmartBrainGames training , Houston, TX 8 hours
2004 Congreso Internacional de Neurofeedback de México, San Miguel Regla, México 32 hours
2004 Barry Sterman QEEG training México City 36 hours
2004 Grant Bright Deymed TruScan training 8 hours
2007 Martijn Arns Brain Resource Laboratory setup, Monterrey, México 40 hours
Adrian Roel Workshop Information